Stout & Baileys Cake Jars
Difficulty:

Hard

Servings:

5
This Stout & Baileys Cake Jar features 8-layers of Devil's Food Cake stacked between chocolate espresso blondies, salted caramel jam, vanilla buttercream and a creamy Baileys Original Irish Cream white chocolate ganache.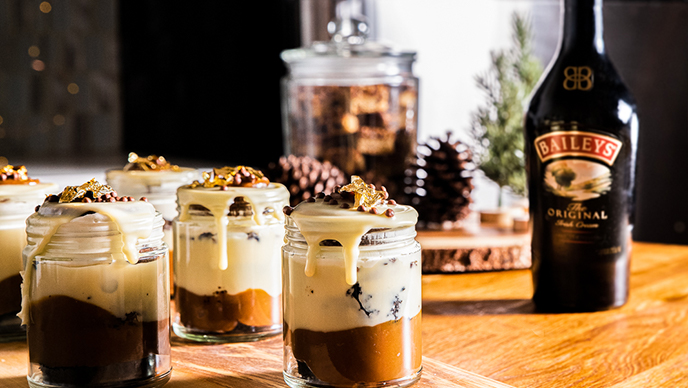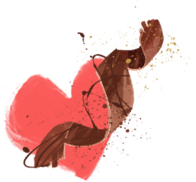 Ingredients
Shopping List
Devil's Food Cake:
3 Eggs
350 Grams Sugar
241 Grams Mayonnaise
257 Grams Water
282 Grams Flour
7 Grams Baking Soda
1 Gram Baking Powder
85 Grams Cocoa Powder
Splash of Vanilla Extract
Chocolate Espresso Blondies:
113 Grams Butter
250 Grams Brown Sugar
2 Eggs
184 Grams Flour
7.5 Grams Baking Powder
18 Grams Cocoa Rouge
3.7 Grams Salt
2 tbsp. Stout
1 tbsp. Espresso Powder
Baileys Ganache:
150 Grams Milk
10 Grams Butter
141 Grams White Chocolate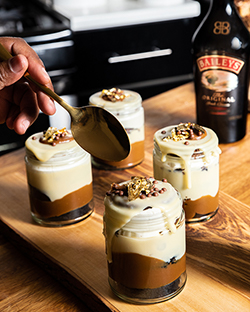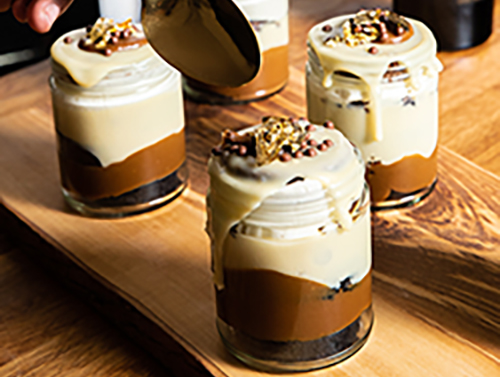 Directions
DEVIL'S FOOD CAKE:

STEP ONE: Preheat over to 350 degrees. In a stand mixer fitted with a whisk attachment, whisk eggs and sugar for 8 minutes on medium-high speed

STEP TWO

Meanwhile, in a separate bowl, whisk together a splash of vanilla extract, mayonnaise, and water. Set aside

STEP THREE

In a different bowl, whisk together the flour, baking soda, baking powder and cocoa powder

STEP FOUR

Alternating between dry with wet ingredients, add mixtures to the whisked eggs while on low speed

STEP FIVE

Divide between two 1⁄2-inch sheet pans (about 800 grams per sheet). Bake until set

CHOCOLATE ESPRESSO BLONDIES:

STEP ONE: Melt butter and brown sugar in saucepan

STEP TWO

Transfer to bowl

STEP THREE

Add 2 eggs, mix with hand mixer on low speed until combined

STEP FOUR

Add stout, flour, baking powder, cocoa rouge, espresso powder and salt

STEP FIVE

Transfer to sheet pan. Bake until set

BAILEYS GANACHE:

STEP ONE: Bring milk and Baileys Original Irish Cream to a boil

STEP TWO

Pour over Butter and white chocolate

STEP THREE

Use immersion blender to combine

CAKE JAR ASSEMBLY:

STEP ONE: Set out 5 cake jars

STEP TWO

Use round cutter to cut out pieces of Devil's Food Cake

STEP THREE

Layer on the bottom of jar

STEP FOUR

Use a piping bag filled with pre-made Vanilla Buttercream to pipe into bottom of jar, just covering the cake.

STEP FIVE

Use cutter to cut out pieces of Chocolate Espresso Blondies

STEP SIX

Layer on top of Vanilla Buttercream

STEP SEVEN

Use a piping bag filled with pre-made Salted Caramel Jam to pipe into jar, just covering the blondie

STEP EIGHT

Sprinkle with pink Himalayan salt

STEP NINE

Continue layering cake, buttercream, blondie and caramel jam and salt until almost at the top, leaving a ¼ inch gap.

STEP TEN

Using a piping bag, pipe the final layer of Baileys Ganache

STEP ELEVEN

Top with crunchy chocolate pearls and gold leaf

STEP TWELVE

Finish all 5 jars
Other Recipes You Might Like
Strawberry Cream Colada with Baileys Recipe

Baileys strawberries and cream colada is a fun and delicious riff off the eternal classic pina colada cocktail, with strawberries replacing the pineapple. Thanks to Baileys Strawberries and Cream, this recipe couldn't be much simpler or tastier!

Cocktail

Baileys Flat White Martini Recipe

A deliciously decadent drink with a nod to a true classic. This Flat White Martini Cocktail is rich, creamy and indulgent – just the way we like it! Get your shake on to make one yourself and get the classic look by topping it off with the iconic three coffee beans – they represent health, wealth and happiness! You can make a Flat White Martini at home in just a few easy steps.