Baileys Original Irish Cream
One of life's most pleasurable indulgences, Baileys Original Irish Cream is the sweetest meeting of fine Irish whiskey and spirits, Irish dairy cream, and rich chocolate and vanilla flavors. The result? Complete deliciousness. Drink neat over ice, shake into cocktails, drizzle over ice-cream, bake a Baileys-tastic cake – perhaps even share it if you have to – Baileys Original Irish Cream equals pure, unadulterated pleasure. Go on, you know you want to!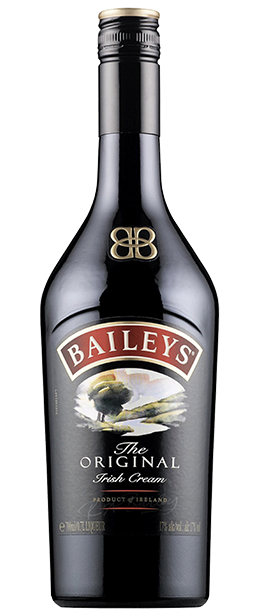 What's in it...
Allergies
Milk and milk products (lactose included)
Alcohol Content
17%
Explore Recipes with Baileys Original Irish Cream
Hot Drink

Baileys Hot Coffee Latte Recipe

Baileys Irish Cream goes so well with in a delicious latte! It's everything your favourite latte should be - frothy, creamy, and packed with delicious Baileys flavour. You can adapt this latte recipe to your own taste using a different type of milk – almond milk works well – and adding different coffee syrups for an authentic coffee shop touch.

Cocktail

Baileys Tiramisu Cocktail

An Italian favourite meets an Irish favourite to create everyone's new favourite dessert/cocktail mashup.

Cocktail

Baileys Flat White Martini Recipe

A deliciously decadent drink with a nod to a true classic. This Flat White Martini Cocktail is rich, creamy and indulgent – just the way we like it! Get your shake on to make one yourself and get the classic look by topping it off with the iconic three coffee beans – they represent health, wealth and happiness! You can make a Flat White Martini at home in just a few easy steps.
Explore More Products
Baileys Original Irish Cream

This is where it all began! Original Irish Cream blends Irish whiskey and spirits with Irish dairy cream and a touch of rich chocolate and vanilla flavours. Pour over ice cream, mix into coffee, or enjoy it with ice for an originally delish Baileys moment.

Baileys Strawberries and Cream

A blend of deliciously ripe strawberry and vanilla flavors.