Baileys Orange Truffle
The ultimate indulgence, the unique blend of exquisite Baileys Original Irish Cream liqueur combined with rich, melt-in-your-mouth orange truffle flavour is the seductive taste you'll fall in love with. It's perfect for sharing with friends or as an after-dinner treat. Best served over ice, the luxurious taste of Baileys Orange Truffle can be enjoyed on its own or in a delicious cocktail to get your taste buds tingling. add something extra to a simple serve over ice by grating orange zest over the top to garnish before serving, adding a tangy edge that brings out the orange flavour.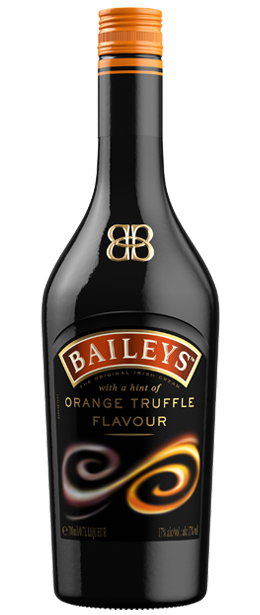 What's in it...
Allergies
Milk
Alcohol Content
17%
Nutritional Information
per serve (50ml)
per 100ml
Energy (kJ)
659
1318
Energy (kcal)
158
317
Total Fat (g)
7
14
Saturated Fat (g)
4
9
Total Carbohydrates (g)
11
22
Of which Sugar (g)
9
19
Protein (g)
1
3
Salt (g)
<0.1
0.2
Alcohol (g)
7
13.5
Explore More Products
Baileys Chocolat Luxe

Our most indulgent creation so far. Rich, luxurious Baileys with lashings of thick Belgian chocolate. If you're the type of person who can never have too much chocolate (we know we are!), then this is the Baileys for you.

Baileys Original Irish Cream

This is where it all began! Original Irish Cream blends Irish whiskey and spirits with Irish dairy cream and a touch of rich chocolate and vanilla flavours. Pour over ice cream, mix into coffee, or enjoy it with ice for an originally delish Baileys moment.