Baileys Original Irish Cream
One of life's most pleasurable indulgences, Baileys Original Irish Cream is the sweetest meeting of fine Irish whiskey and spirits, Irish dairy cream, rich chocolate and vanilla flavours. The result? Complete deliciousness. Drink neat over ice, shake into cocktails, drizzle over ice-cream, bake a Baileys-tastic cake – perhaps even share it if you have to – Baileys Original Irish Cream equals pure, unadulterated pleasure. Go on, you know you want to!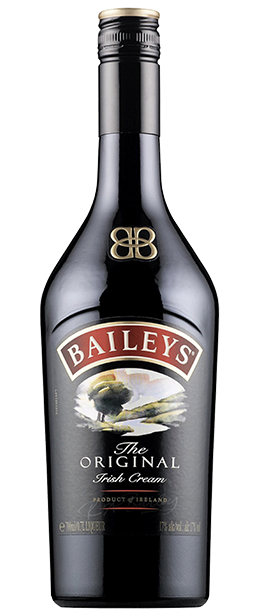 What's in it...
Allergies
Milk, Milk products (lactose included)
Alcohol Content
17%
Nutrition Per Serve *
Energy (kcal/35ml):

114

Energy (kJ/35ml):

476

Protein:

0.9 g

Total Carbohydrates:

8.4 g

Of which sugars:

7 g

Total Fat:

4.9 g

Of which saturated:

2.8 g

Salt:

<0.1 g

Alcohol:

5 g

Caffeine:

Trace
*Serve based on typical market based servings
Explore Recipes with Baileys Original Irish Cream
Cocktail

Baileys Nutterlicious

If you set out to find the thickest, nuttiest, most indulgent milkshake on the internet, then you've just found it.

Cocktail

Baileys Tiramisu Cocktail

An Italian favourite meets an Irish favourite to create everyone's new favourite dessert/cocktail mashup.

Cocktail

Flat White Martini Cocktail

This cocktail is 3 of our favourite things all shaken up into one; Flat White, martini, and Baileys, of course!
Explore More Products
Baileys Chocolat Luxe

Our most indulgent creation so far. Rich, luxurious Baileys with lashings of thick Belgian chocolate. If you're the type of person who can never have too much chocolate (we know we are!), then this is the Baileys for you.

Baileys Original Irish Cream

This is where it all began! Original Irish Cream blends Irish whiskey and spirits with Irish dairy cream and a touch of rich chocolate and vanilla flavours. Pour over ice cream, mix into coffee, or enjoy it with ice for an originally delish Baileys moment.