Baileys Tiramisu Cocktail
This new cocktail-inspired limited edition liqueur combines the deliciousness of Baileys Irish Cream with the decadent flavours of a tiramisu dessert – yum! This scrumptious cream liqueur is a delicious mix of flavours - mascarpone, espresso with hints of chocolate.
If you're dreaming of an Italian getaway, what could be better than tiramisu in a bottle with a delicious Baileys twist?!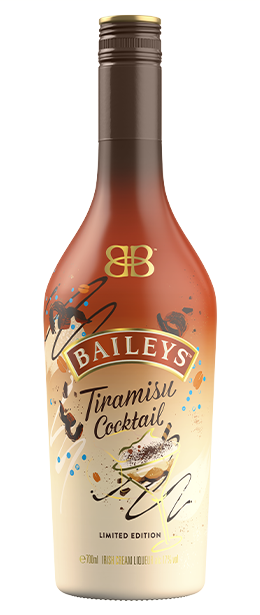 What's in it...
Allergies
Milk, Milk products (lactose included)
Alcohol Content
17%
Nutritional Information
per serve (50ml)
per 100ml
Energy (kJ)
657
1313
Energy (kcal)
158
315
Total Fat (g)
7
14
Saturated Fat (g)
4
9
Total Carbohydrates (g)
11
22
Of which Sugar (g)
9
19
Protein (g)
1
3
Salt (g)
<0.1
0.2
Explore Recipes with Baileys Tiramisu Cocktail
Cocktail

Tiramisu with a twist

Get ready for amore at first sip this summer with the NEW Baileys Tiramisu Cocktail! This luxurious flavour will transport you straight to the Italian Coast!
Explore More Products
Baileys Original Irish Cream

This is where it all began! Original Irish Cream blends Irish whiskey and spirits with Irish dairy cream and a touch of rich chocolate and vanilla flavours. Pour over ice cream, mix into coffee, or enjoy it with ice for an originally delish Baileys moment.

Baileys Chocolat Luxe

Our most indulgent creation so far. Rich, luxurious Baileys with lashings of thick Belgian chocolate. If you're the type of person who can never have too much chocolate (we know we are!), then this is the Baileys for you.