Baileys Almande
A delicious and light tasting spirit from Baileys made with real almondmilk. This smooth spirit blends the luscious, nutty flavors of real almondmilk and real vanilla to create a versatile drink. Serve over crushed ice or mix with coconut water for a delicious summer cocktail. Our almondmilk is made from sweet almond oil and almond essence (extracted from crushed almonds), cane sugar and purified water with a touch of real vanilla. Baileys Almande is deliciously light tasting and best enjoyed over ice or in a chilled cocktail.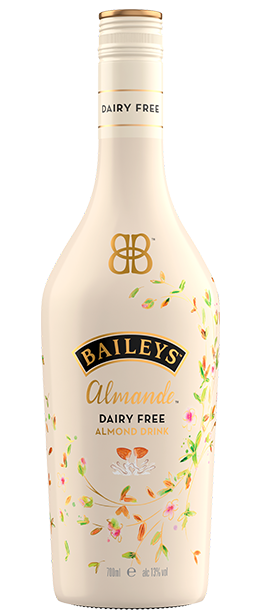 What's in it...
Allergies
Soy, Almond
Alcohol Content
13%
Explore Recipes with Baileys Almande
Baileys Almande Peach Smoothie

This peachy, creamy alcoholic smoothie is 100% vegan. And 1000% totally delicious.

Almande Berry Coconut Smoothie

None

Baileys Almande Spiced Cold Brew

Enjoy the Baileys Almande Spiced Iced Coffee recipe made with Baileys Almande, iced coffee and a perfect blend of spices.
Explore More Products
Baileys Original Irish Cream

This is where it all began! Original Irish Cream blends Irish whiskey and spirits with Irish dairy cream and a touch of rich chocolate and vanilla flavours. Pour over ice cream, mix into coffee, or enjoy it with ice for an originally delish Baileys moment.

Baileys Strawberries and Cream

A blend of deliciously ripe strawberry and vanilla flavors.