Baileys Deliciously Light - less calories and sugar
Enjoy all the deliciousness of Baileys, with 40% less calories and 40% less sugar than Baileys Original Irish Cream. We've combined cream from Ireland and the rich cocoa and vanilla flavors of Baileys to create a light and versatile treat with all of the yummy taste of the original Baileys you know and love. Whether you are out at brunch or relaxing at home with friends, treat yourself with the new Baileys Deliciously Light Cream Liqueur. Enjoy over ice, in coffee or blended.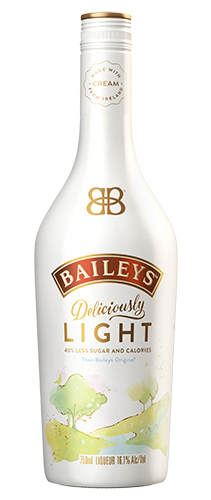 What's in it...
Allergies
Milk and milk products (lactose included)
Alcohol Content
16.1%
Explore More Products
Baileys Original Irish Cream

This is where it all began! Original Irish Cream blends Irish whiskey and spirits with Irish dairy cream and a touch of rich chocolate and vanilla flavours. Pour over ice cream, mix into coffee, or enjoy it with ice for an originally delish Baileys moment.

Baileys Strawberries and Cream

A blend of deliciously ripe strawberry and vanilla flavors.