Baileys Espresso Crème
A delicious combination that was meant to be. Real coffee flavor and other natural flavors meet yummy Baileys Original Irish Cream for a big bold hit of wonderful. Perfect for when you need to concentrate on the important things in life: coffee, chocolate and creamy Baileys. Enjoy neat, in one of our indulgent coffee cocktail recipes, or splash into coffee and hot drinks for an extra shot of wow.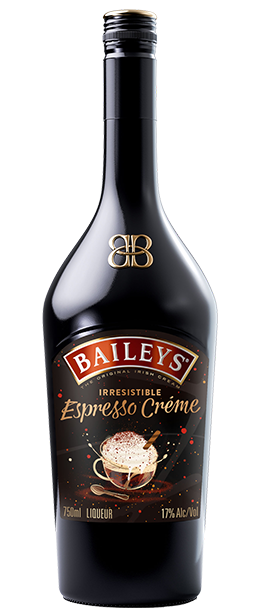 What's in it...
Allergies
Milk and milk products (lactose included)
Alcohol Content
17%
Explore Recipes with Baileys Espresso Crème
Espresso Martini

Grab a few friends and try taking your martinis to the next level. It all starts with Baileys and espresso!

Baileys White Russian

Whether you're out for happy-hour, celebrating with the girls or just enjoying an after-dinner drink, there's no better way to shake up your cocktail routine than this delicious cherry-topped recipe!
Explore More Products
Baileys Original Irish Cream

This is where it all began! Original Irish Cream blends Irish whiskey and spirits with Irish dairy cream and a touch of rich chocolate and vanilla flavours. Pour over ice cream, mix into coffee, or enjoy it with ice for an originally delish Baileys moment.

Strawberries & Cream

A blend of deliciously ripe strawberry and vanilla flavors.