Baileys Minis
A perfectly portioned delight. Baileys Original Irish Cream, in oh-so-convenient 100ml individual mini liqueur bottles. A delicious drinkable dessert in a bottle, these petite treats indulge you with all the smooth, creamy taste of Baileys in a convenient, on-the-go package. One of life's mini pleasures.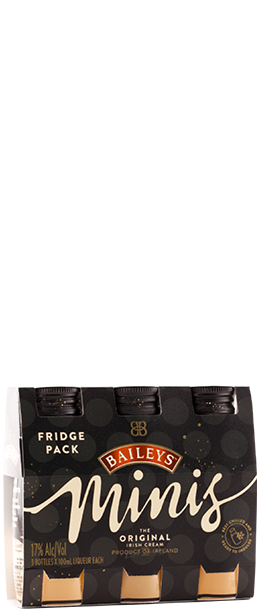 What's in it...
Allergies
Milk and milk products (lactose included)
Alcohol Content
17%
Explore Recipes with Baileys Minis
Hot Drink

Baileys Hot Coffee Latte Recipe

This Baileys latte recipe, it's everything your favorite café latte should be; frothy, creamy, and packed with delicious Baileys flavor.

Cocktail

Baileys Tiramisu Cocktail

An Italian favourite meets an Irish favourite to create everyone's new favourite dessert/cocktail mashup.

Cocktail

Baileys Flat White Martini Recipe

Baileys Flay White Martini cocktail is 3 of our favorite things all shaken up into one; Flat White, martini, and Baileys, of course! Discover our delicious riff on the classic Espresso Martini cocktail for a creamy smooth new twist.
Explore More Products
Baileys Original Irish Cream

This is where it all began! Original Irish Cream blends Irish whiskey and spirits with Irish dairy cream and a touch of rich chocolate and vanilla flavours. Pour over ice cream, mix into coffee, or enjoy it with ice for an originally delish Baileys moment.

Baileys Strawberries and Cream

A blend of deliciously ripe strawberry and vanilla flavors.