Baileys Minis
A perfectly portioned delight. Baileys Original Irish Cream, in oh-so-convenient 100ml individual mini liqueur bottles. A delicious drinkable dessert in a bottle, these petite treats indulge you with all the smooth, creamy taste of Baileys in a convenient, on-the-go package. One of life's mini pleasures.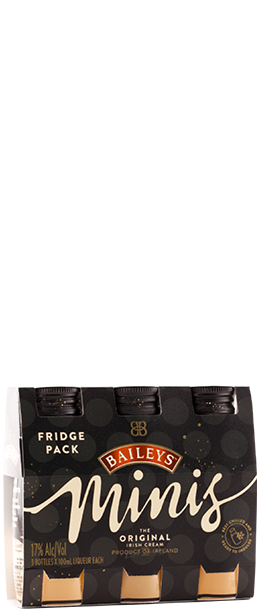 What's in it...
Allergies
Milk and milk products (lactose included)
Alcohol Content
17%
Explore Recipes with Baileys Minis
Hot Drink

Baileys Hot Coffee Latte Recipe

Baileys Irish Cream goes so well with in a delicious latte! It's everything your favourite latte should be - frothy, creamy, and packed with delicious Baileys flavour. You can adapt this latte recipe to your own taste using a different type of milk – almond milk works well – and adding different coffee syrups for an authentic coffee shop touch.

Cocktail

Baileys Tiramisu Cocktail

An Italian favourite meets an Irish favourite to create everyone's new favourite dessert/cocktail mashup.

Cocktail

Baileys Flat White Martini Recipe

A deliciously decadent drink with a nod to a true classic. This Flat White Martini Cocktail is rich, creamy and indulgent – just the way we like it! Get your shake on to make one yourself and get the classic look by topping it off with the iconic three coffee beans – they represent health, wealth and happiness! You can make a Flat White Martini at home in just a few easy steps.
Explore More Products
Baileys Original Irish Cream

This is where it all began! Original Irish Cream blends Irish whiskey and spirits with Irish dairy cream and a touch of rich chocolate and vanilla flavours. Pour over ice cream, mix into coffee, or enjoy it with ice for an originally delish Baileys moment.

Baileys Strawberries and Cream

A blend of deliciously ripe strawberry and vanilla flavors.