Baileys Original Irish Cream
One of life's most pleasurable indulgences, Baileys Original Irish Cream is the sweetest meeting of fine Irish whiskey and spirits, Irish dairy cream, and rich chocolate and vanilla flavors. The result? Complete deliciousness. Drink neat over ice, shake into cocktails, drizzle over ice-cream, bake a Baileys-tastic cake – perhaps even share it if you have to – Baileys Original Irish Cream equals pure, unadulterated pleasure. Go on, you know you want to!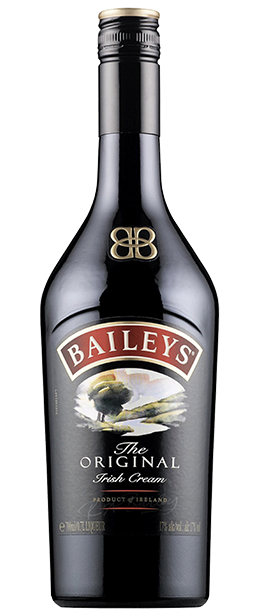 What's in it...
Allergies
Milk and milk products (lactose included)
Alcohol Content
17%
Explore Recipes with Baileys Original Irish Cream
Hot Drink

Baileys Latte

It's everything your favourite latte should be; frothy, creamy, and packed with delicious Baileys flavour.

Cocktail

Baileys Tiramisu Cocktail

An Italian favourite meets an Irish favourite to create everyone's new favourite dessert/cocktail mashup.

Cocktail

Flat White Martini Cocktail

This cocktail is 3 of our favourite things all shaken up into one; Flat White, martini, and Baileys, of course!
Explore More Products
Baileys Original Irish Cream

This is where it all began! Original Irish Cream blends Irish whiskey and spirits with Irish dairy cream and a touch of rich chocolate and vanilla flavours. Pour over ice cream, mix into coffee, or enjoy it with ice for an originally delish Baileys moment.

Strawberries & Cream

A blend of deliciously ripe strawberry and vanilla flavors.