Baileys Red Velvet
A drink that tastes like a cupcake? It's what dreams are made of. Our Baileys Red Velvet is swirled with our mouthwatering Irish Cream for a chocolately treat straight out of the bakeshop. Enjoy over ice, as a shot or as a grown-up baking boost. You can have your cupcake and drink it too!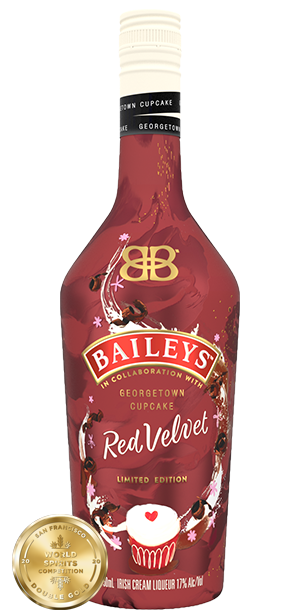 What's in it...
Allergies
Milk and milk products (lactose included)
Alcohol Content
17%
Explore Recipes with Baileys Red Velvet
Baileys Red Velvet Cupcake Martini

No fuss, no mess, no bake. Just creamy Baileys, with a red velvet twist. That's our kind of cake.

Baileys Red Velvet Hot Chocolate

Love Hot Choc? Love it even more with our Baileys Red Velvet
Explore More Products
Baileys Original Irish Cream

This is where it all began! Original Irish Cream blends Irish whiskey and spirits with Irish dairy cream and a touch of rich chocolate and vanilla flavours. Pour over ice cream, mix into coffee, or enjoy it with ice for an originally delish Baileys moment.

Baileys Strawberries and Cream

A blend of deliciously ripe strawberry and vanilla flavors.