Baileys Deliciously Light
Introducing NEW Baileys Deliciously Light, the delicious, yet lighter way to enjoy Baileys. This delicious new drink from Baileys, blends Irish cream with traditional Irish whisky, alongside rich cocoa and vanilla flavours to create a lighter version of the Baileys Original Irish Cream you know and love, but with 40% less calories. Delectably versatile, Baileys Deliciously Light is the new way to treat yourself this spring. What's not to love?
Baileys Deliciously Light is the perfect treat for summer and can be enjoyed all year round, whether you like your Baileys over ice, shaken up in a cocktail of creamy deliciousness, by pouring 50ml over your favourite pudding or stirred up into your signature bakes. Come rain or shine, there are endless delicious possibilities to treat up with Baileys Deliciously Light!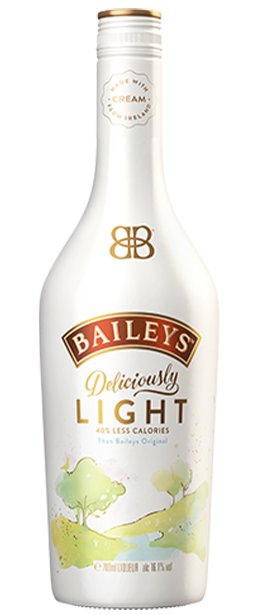 What's in it...
Allergies
Milk, Milk products (lactose included)
Alcohol Content
16.1%
Nutritional Information
per serve (50ml)
per 100ml
Energy (kJ)
392
785
Energy (kcal)
94
188
Total Fat (g)
2
5
Saturated Fat (g)
2
3
Carbs (g)
6
13
Sugar (g)
5
11
Protein (g)
0.5
1
Salt (g)
<0.1
<0.1
Explore More Products
Baileys Original Irish Cream

This is where it all began! Original Irish Cream blends Irish whiskey and spirits with Irish dairy cream and a touch of rich chocolate and vanilla flavours. Pour over ice cream, mix into coffee, or enjoy it with ice for an originally delish Baileys moment.

Baileys Chocolat Luxe

Our most indulgent creation so far. Rich, luxurious Baileys with lashings of thick Belgian chocolate. If you're the type of person who can never have too much chocolate (we know we are!), then this is the Baileys for you.