Baileys Vanilla Mint Shake
A delicious Irish twist to a classic dessert-yum! The flavors of Vanilla, mint and a hint of chocolate blended with our Irish Cream for a sweet treat, perfect for celebrating with friends. Enjoy over ice cream, in a shot or drizzled in a milkshake.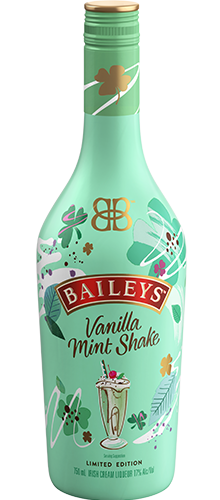 What's in it...
Allergies
Milk and milk products (lactose included)
Alcohol Content
17%
Nutritional Information
Energy (kcal/35ml):
1315
Energy (kJ/35ml):
231
Protein:
2
Total Carbohydrates:
16
Of which sugars:
14
Total Fat:
10
Of which saturated:
8.5
Salt:
0.2
Alcohol:
13.5
Explore Recipes with Baileys Vanilla Mint Shake
Milkshake

Baileys ice Cream Sundae Recipe

Easy. Delicious. And covered in Baileys. Why can't every Sundae be more like this one? Baileys swirled over ice cream, one of life's most delicious pleasures. What could be better or simpler way to jazz up your Sundae?

Dessert

Baileys Choco Mousse Recipe

If you've ever shared food before, Baileys Choco Mousse is the dessert that will make you stop!

Baileys Chocolatini

What goes well with chocolate? More chocolate, of course. This recipe complements the cocoa in Baileys Original Irish Cream with sumptuous Godiva® Chocolate Liqueur.
Explore More Products
Baileys Deliciously Light - less calories and sugar

Enjoy all the deliciousness of Baileys, with 40% less calories and 40% less sugar than Baileys Original Irish Cream

Baileys Original Irish Cream

This is where it all began! Original Irish Cream blends Irish whiskey and spirits with Irish dairy cream and a touch of rich chocolate and vanilla flavours. Pour over ice cream, mix into coffee, or enjoy it with ice for an originally delish Baileys moment.