Baileys Colada
It's Back! Kickstart Your Summer With Baileys Colada ! Enjoy the taste of summer with the limited-edition flavour, back by popular demand!
Baileys Colada blends Baileys Original Irish Cream with creamy coconut and sweet, juicy pineapples. Simply enjoy as a 50ml measure over ice or drizzled over vanilla ice cream for an extra summery treat. Better yet, whip up a Baileys Colada Cocktail by blending 50ml of Baileys Colada with a handful of pineapple and ice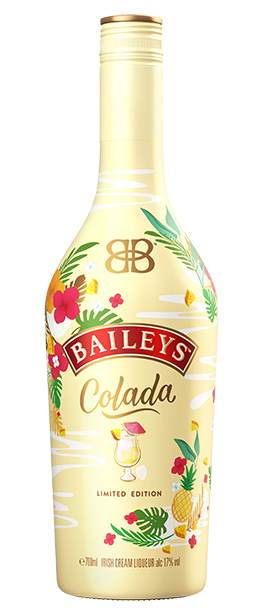 What's in it...
Allergies
Milk, Milk products (lactose included)
Alcohol Content
17%
Nutritional Information
Energy (kcal):
313
Energy (KJ):
1301
Protein (g):
3
Total Carbohydrates (g):
21
Of which sugars (g):
18
Total Fat (g):
14
Of which saturated (g):
9
Salt (g):
<0.2
Alcohol (g):
13.5
Explore Recipes with Baileys Colada
Baileys Colada Cocktail

A deliciously tropical, fruity Baileys recipe with coconut and pineapple flavours that's perfect for summer – or winter when you want that sunshine feeling! It's like a Baileys piña colada cocktail recipe without the rum and is oh-so-simple to make. This smooth and fruity cocktail is a dream summer drink to transport you straight to the tropics.

Baileys Colada over Ice Cream

An indulgent treat to help you cool off this summer.
Explore More Products
Baileys Deliciously Light

The same wonderfully creamy taste you love, now with fewer calories. It's the perfect versatile treat for anytime. Deliciously creamy and indulgent, with a yummy chocolatey finish.

Baileys Original Irish Cream

This is where it all began! Original Irish Cream blends Irish whiskey and spirits with Irish dairy cream and a touch of rich chocolate and vanilla flavours. Pour over ice cream, mix into coffee, or enjoy it with ice for an originally delish Baileys moment.